7 Walks: WALK #03 – Little rivers together make big streams, the world as a work of art
05
7 Walks is an artistic research trajectory by the artist duo Vermeir & Heiremans in collaboration with guest walkers and participants. Using walking as a public research method, developing a direct relation with the natural or urban environment, the project aims to connect the ecology of the arts with a natural common good – water.
Vermeir & Heiremans are developing three new walks in Brussels for their exhibition in n0dine.
On Sunday 15 October, during Slow Ways Weekend, the third walk will take place in Ixelles with guests Tatiana Debroux and Margot Elmer. Note that the guided walk will be held in English.
WALK #03 – Little rivers together make big streams, the world as a work of art
'This walk focuses on the role of art in society. We walk to the source of the vaulted Maelbeek, near La Cambre Abbey, where Henry Van de Velde founded his Nationale Hoogere School voor Sierkunst in 1926. He started his career influenced by anarchist writings such as Proudhon's book: Du principe de l'art et de sa destination sociale.
The question of the role of art was as alive then as it is today. An international meeting point were this question was addressed was the Université Nouvelle in Brussels, where Elisée Reclus, as well as neo-impressionist artists like Théo Van Rysselberghe, writers like Emile Verhaeren, and also Van de Velde taught.
Questions around the autonomy of the artist, the political instrumentalisation of artistic practice, the question of whether new forms of expression in art could be the starting point for a renewal of society were all on the agenda. One of the basic ideas of anarchism, the importance of individual freedom in relation to solidarity was expressed by the neo-impressionists' divisionism, which was based on science. In the pointillist technique, each point retains its colour and individuality, but to the eye they merge harmoniously.
For Elisée Reclus, the true work of art was the world itself, and in his vision of social geography and radical education, with its focus on physical labour and a direct relationship with the environment, these neo-impressionist artists were social reformers whom he engaged for the giant globes and relief maps he wanted to realise in order to reduce the gap between the world and its representations.
Elisée Reclus lived close by the lakes of Ixelles, and we just have to cross over to the Abdijstraat where there are still some studios of some of these artists, grouped as Les XX(1883-1893) and later as La Libre Esthétique (1894-1914). The group, of which Anna Boch was the only female artist, played an important role in avant-garde art in Europe.
Langue de l'activité : |en|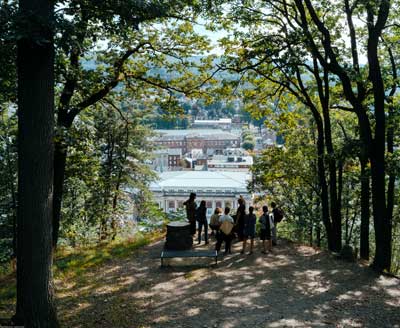 Infos pratiques
Organisateur : Nadine
---
dimanche 15 octobre

14:00-18:00
---
Réservation obligatoire :
oui
Prix : 0€
---
Ten Bosch left side of the India Embassy
217, Vleurgatsesteenweg
1050 Ixelles
---